If you're looking for a fashionable eyewear brand you can count on, Tom Ford has a remarkable collection from which to choose and Oxford Optometry will find the perfect Tom Ford eyewear for you!
The man behind the brand is among the most highly respected and successful designers of today. A winner of numerous design awards has resulted in his creations have become synonymous with luxury and exceptional quality. After collaborating with several legendary fashion houses in his early career, in April 2005, he launched the Tom Ford brand and has been part of the fashion landscape ever since. In that same year, he also signed a partnership with the Marcolin Group to produce and distribute ophthalmic frames and sunglasses.

As a predecessor of fashion trends, Tom Ford continues to lead and mold the fashion industry. His visions are potent with modernity and glamour, and his creations are no less. All of his products feature an innovative and provocative design that draws attention to detail, exclusive workmanship, and luxurious materials. The Tom Ford Eyewear collection is produced in Italy by the Marcolin Group, with painstaking attention to detail using materials of exceptional quality. As eyecare professionals, we at Oxford Optometry, love working with Tom Ford eyewear. Not only is the quality exceptional, but they thrill our patients with their fit, comfort, and style. Tom Ford sunglasses are an amalgamation of both vintage and contemporary influences and we can also make prescription lenses for any sunglass frame. Imagine not having to sacrifice clear vision just because you're spending time outside – then imagine looking great while you're out. That's what you get with prescription sunglasses from Oxford Optometry in a sweet pair of Tom Ford frames.
All Tom Ford eyewear can be instantly recognized by their unique branding detail. This points to the genuineness of the products we carry, as the elegant, trademark, metal "T" detail on the temple, is the undisputed icon of the brand. (For more information on how to identify genuine Tom Ford eyewear, click here.) Some iconic eyewear pieces under the brand include the Whitney, the Cary, the Jennifer, and the Leo, which are all favourites of celebrities and even worn by James Bond.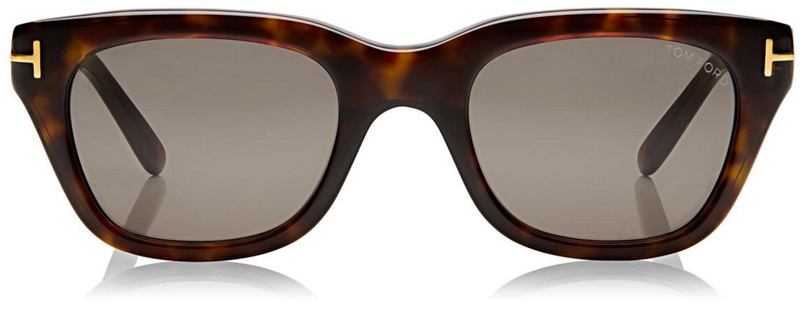 If you're looking to purchase stunning, meticulously crafted eyewear from the Tom Ford brand, Oxford Optometry houses some of the most fashionable styles under this name. Since its inception, Tom Ford eyewear has become one of the most popular spectacle brands in the optician industry. As a result, we want to make it available to you. Come see us for both ophthalmic eyewear and customized prescription sunglasses. We cater to the needs of anyone looking for quality, stylish eyewear.
To get your hands on the latest Tom Ford eyewear in Woodstock, ON, reach out to Oxford Optometry today! We have an extensive gallery boutique with hundreds of frames to select from. In addition to our Tom Ford collection, we also carry impressive brands like Coach, Vera Wang, Maui Jim, Oakley, Ray-Ban, Nike, Lafont, Guess, and so many more.
Our staff is friendly, professional, and committed to providing exceptional customer service to all our patients. We take pride in our personalized care and strive to spend the necessary time with each patient to ensure a comfortable experience. We currently serve clients across Woodstock, Innerkip, Norwich, Ingersoll, Princeton, Burford, and the surrounding areas.
To learn more about our products and services, please click here or contact us by giving us a call at (519) 421-3303. You can even connect with us by clicking here, and we will reach out to you.